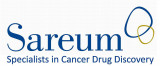 Sareum Ltd
Sareum is a drug discovery company, headquartered in Cambridge UK, that produces targeted small molecule therapeutics, focusing on cancer and auto-immune disease.
Dr Tim Mitchell
Chief Executive Officer

Synpromics Ltd
Synpromics is a life science company focused on the field of synthetic biology. The Company's proprietary technology enables the design of optimized synthetic promoters that provide more effective and efficient gene regulation.
Mr David Lawrence
Executive Chairman
UKTI Life Science Investment Organisation
UK Trade and Investment (UKTI) has established a dedicated unit to support overseas investment into the UK from the earliest R&D collaborations through to clinical trials, commercial operations and partnerships. The team in the UKTI Life Science Investment Organisation is here to support you to navigate the UK investment environment and to help your business invest and expand in the UK.
Dr Mark Treherne
Chief Executive Officer